Frequently Asked Question
Can I get my money back if a vending machine ate it?
Answer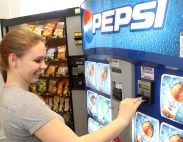 Possibly. If you used your ClipperCard to purchase an item that you never received via a vending machine issue please fill out the ClipperCash Vending Refund Form.pdf and send it to clippercard@salemstate.edu someone will research the issue. 
Vending would include issues with:
Beverage machines
Laundry (must include machine number)
Print Stations and Copy machines
Snack machines
If a refund is due, one will be processed via ClipperCard only.  Refunds will not be given if issue occurred more than one week prior to contacting our office.
If you paid with cash you need to contact the vending company directly for a refund.