Salem State University's Collections Department's responsibility is to collect past due student account balances and delinquent Perkins and Nursing loans. As a state institution, we are required to follow guidance set by the Commonwealth of Massachusetts on collection practices. Read the state requirements.
Students are responsible for payment in full of charges they incur by the due date. Any amount owed to the University including, but not limited to, tuition, fees, room, board, and loans, is considered a receivable to the University. A receivable becomes past due if payment is not received by the payment due date. When a receivable becomes past due a financial hold is placed that prevents students from registering for future terms, accessing official transcripts and/or receiving their diploma until the balance is paid in full. Special exceptions may be considered by emailing collections@salemstate.edu. 
All students are required to sign a Financial Responsibility Agreement. The agreement states that all students agree to pay all charges on their student account. For additional information on the Financial Responsibility Agreement, click here.
All students can work with our Collections Department to manage their past due balance. Any balance that is past due will proceed through the collection process and subsequently be referred to an outside collection agency. Once you receive the notice that your account has been transferred to a collection agency, all payment arrangements must be made through that collection agency.
If you feel that you are being charged incorrectly, you should contact the collections department. 
Timeline
Initial bill:
Sent out, by email, approximately one month prior to the term start
Fall tuition bills are due the second Wednesday of August. Spring tuition bills are due the second Wednesday of January. Summer I tuition bills are due May 25. Summer II tuition bills are due July 25.
Monthly Statements: sent out by email monthly if a balance is due.
Holds and Fees: A hold is placed after the add/drop period when a balance remains and monthly late fees are applied.
Collection Letters 1-3: If a balance remains, a letter is mailed home AND a monthly statement is emailed to your SSU address alerting you to a balance.
Collection Letter 4: If payment is not made, accounts are transferred to a collection agency approved by the state. It is also added to the state intercept program.
Write Off: After five years, if a balance remains it may be written off. This account process removes the charge from the Salem State books, however, the balance will remain until paid in full.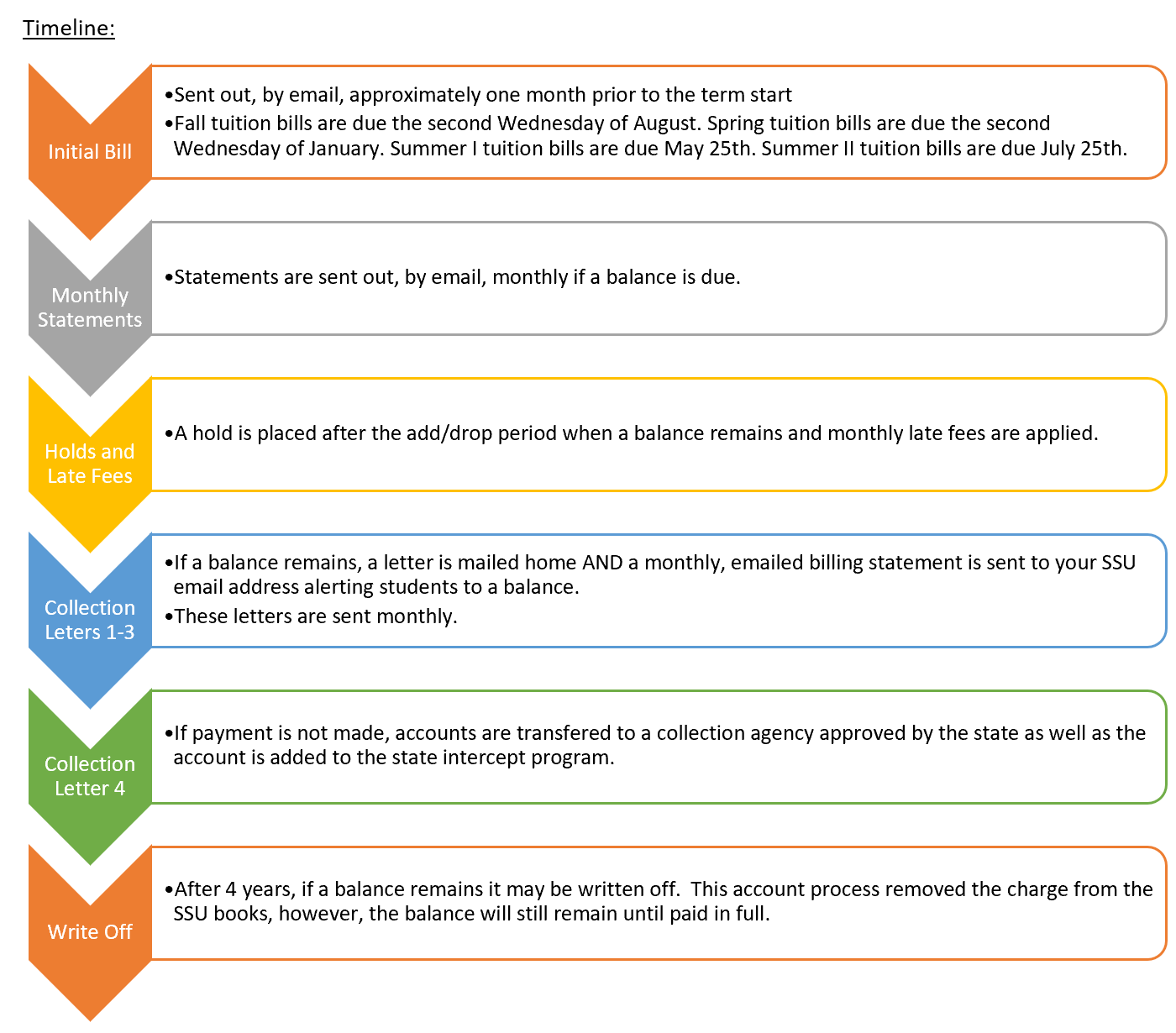 Glossary
We understand this process uses terms related to collections activities that you might not be familiar with.
Collection Agency: an outside third party that acts as an agent to the University, responsible for the collection of delinquent debts for a fee or percentage of the total amount that has been referred.
Collection Fees: Fees assessed for costs incurred by the collection agency activity and efforts to collect delinquent debts on behalf of SSU. These fees are assessed up to 30% of total delinquent debt. See Collection Agency above.
Debtor: the individual, in this case the student, who owes a balance.
Dunning Letter: A collection letter or series of letters, sent to past due or delinquent debtor with the purpose of receiving immediate payments. These letters remind the debtor of other possible collection actions that may be taken if payment is not received.
Hold: a Student Financial Hold (SFH) or Student Financial Transcript Hold (SFT) applies to students who have a past-due balance and do not have sufficient scheduled resources (such as anticipated financial aid, scholarship funding, payment plans, third party sponsorship, and/or VA benefits) to cover the balance due. This hold prevents students from enrolling in courses for future terms, changing courses for the current term, and obtaining official transcripts. Students can review their account through Navigator and can contact the Collections Department for further information and/or with special exceptions about their past due balance. 
Late Fee: A monthly late fee of $50.00 is assessed to the student account when a balance remains unpaid
Past Due (Delinquent) Receivables: Receivables for which payment has not been received by the payment due date. The due date is the past due date utilized by actions associated with the timeline of activity.
Payment Arrangements/Plans: A payment arrangement gives extra time to pay a balance on your account and possibly keep your account from being assigned to a collection agency.
Promissory Note: A document signed by the student containing a written promise to pay a stated sum to the University on a periodic basis until the debt is full repaid.
Receivable: debts owed to the university that have not yet been paid for.
State Intercept Program: State Intercept is a program used by agencies of the Commonwealth of MA to assist them in collecting payments to satisfy delinquent state debt. This is done by intercepting and redirecting tax refunds and Massachusetts State Lottery Commission (winning payouts over $600) to pay university debt.
Write Offs: A transaction that removes from the University's financial accounting records a receivable that has been determined to be uncollectible. This occurs no sooner than 4 years from the original due date. Writing off the receivable does not relieve the debt. It remains owed to the University, but is no longer reported in the University's accounting system as a receivable. Accounts with Write-off activity will receive a hold until the debt is settled.