Election day is Tuesday, November 3, 2020.
The polling place for students living and registered to vote at Salem State is located at the Salem High School.  There will be a bus available to transport students to the polls and the pickup location will be announced in October. The polls are open from 7 am-8 pm.
Students voting at home can search for their polling place here.
However, the easiest and best way to vote in the November 3, 2020 Election is utilizing Vote-by-Mail. You can even track your ballot to ensure it is received!
Preparing for In-Person Voting
Students can search for their polling place by clicking here and viewing all your election information. The form looks like this: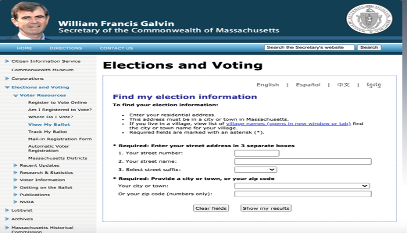 If you are not voting by mail it is helpful to create a voting plan to help identify any potential barriers you may encounter on Election Day. A voting plan also helps to motivate first-time voters who may be hesitant to engage in the democratic process. When developing a same day, voting plan, consider these questions:
What time will you be voting? (You must be in line by the close of polls at 8 pm)
Do I need to bring anything with me? (You should bring some form of ID and proof of residence. The CCE will be proving proof of residence to all SSU students living and registered to vote on campus.)
Where are you voting?
How are you getting there?
Do you need a ride?
Who else can you bring with you to vote? Bringing friends is a great way to feel more comfortable, have fun, and get more people voting!
Do you need to take off work or secure childcare?
Can you participate in Early Voting? Where and at what date(s) and time(s) is your town hosting an Early Voting site? Click here to find Early Voting information for your location.
Next Steps
Still need help? Click here to find dates and sign up for an upcoming Election 101: Preparing to Vote Session.
Check your Voter Registration Status
Register to Vote on Campus
Register to Vote Off Campus
Apply to Vote by Mail
What's on the Ballot?