All Salem State University students are required to own a laptop computer. The recommended Dell laptop models are high quality business class systems which include accidental damage complete care warranty coverage and also include pre-loaded productivity software (Microsoft Office suite), anti-virus, and anti-theft tracking software.
On site warranty support is available to current students at the student technology support center for no cost on laptops purchased through this program as long as the system has warranty coverage.
The recommended Dell laptop satisfies the university laptop requirement.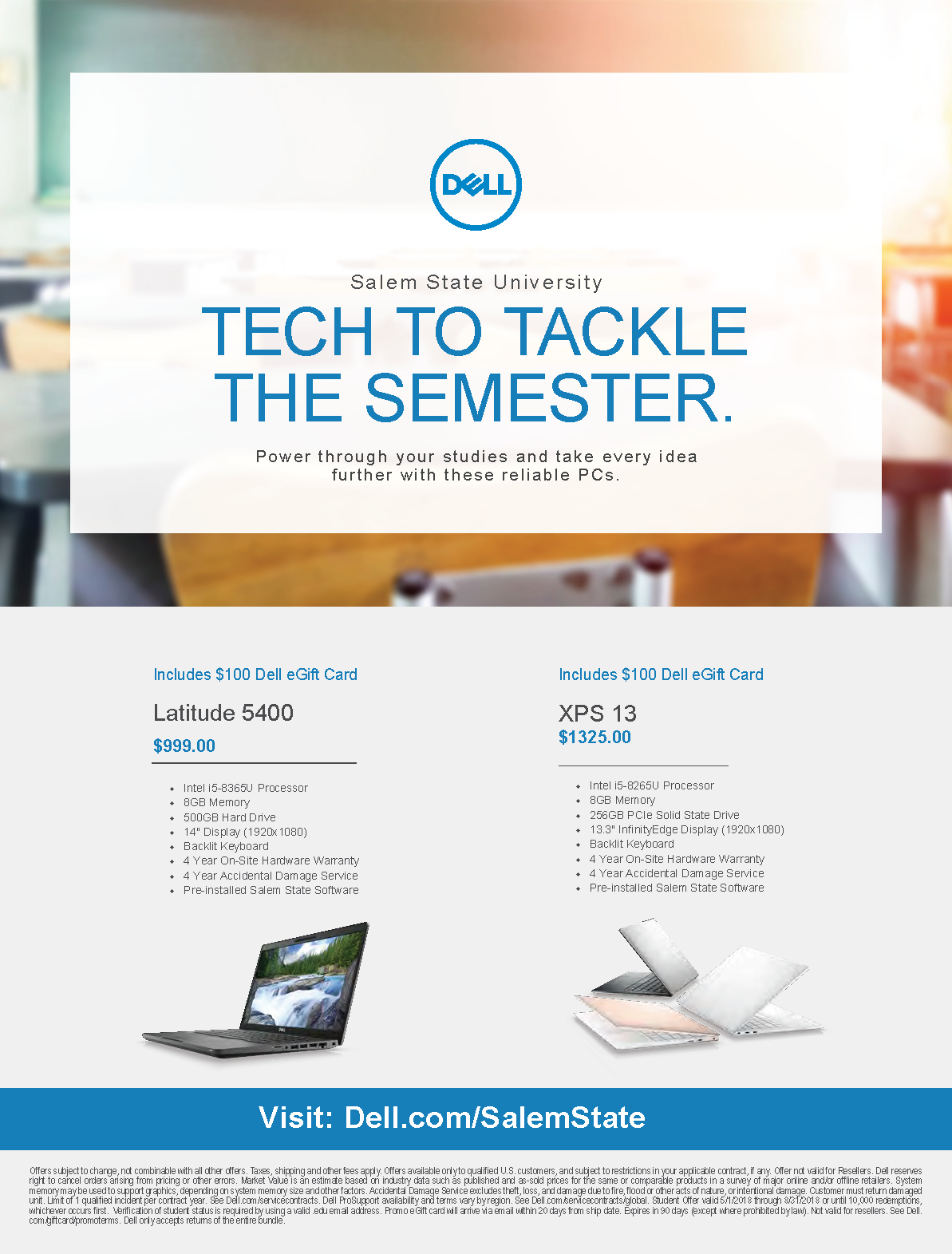 Students may utilize any computer of choice, may already have a laptop, or may choose to take advantage of the special offer from Dell. However, for a computer to meet the minimum requirements the system should at least have the following specifications:
2 Ghz processor or greater
4 GB memory (no less than 2GB)
160 GB Hard Drive (no less than 80GB)
256MB non-integrated video memory (no less than 120MB)
Wireless capability (wireless adapter 802.11a/c/g/n compliant)
2 or more USB 3.0 (no less than 2.0) or USB-C ports
13" Display screen or larger
4, 6 or 9-cell high capacity lithium ion battery
Operating system:

Microsoft Windows 10 (PC)
Apple MAC OSx High Sierra or later (Mac)
Google Chrome OS latest version (Chromebook)

Microsoft Office 2016 or later (for PC or Mac)
Antivirus software (must be installed, running and up-to-date)

NOTE: Some majors such as Music, may require students to use an Apple Macbook.  For more specific details please consult with the department.
To buy a special priced recommended Dell model, or to view the system configurations, please visit dell.com/salemstate. Recommended Dell systems for the current academic year are available to purchase online as soon as the program launches in early-to-mid June and remains available for purchase online until the end of the spring semester.
If a promo eGift card is offered with the laptop purchase, please note the eGift card will arrive via email within 20 days from ship date. Please contact Dell regarding any delays or issues with receipt of the eGift card. It is also possible the email may be in the email spam folder.
Students may bring a recommended Dell laptop to the student technology support center located in CC159 for on-site warranty repairs. These systems include, and may not be limited to, the following:
Dell Latitude E5490; Dell XPS 13; and Dell Chromebook (AY 2018/2019)
Dell Latitude E5480; Dell XPS 13; Dell XPS 15 (AY 2017/2018)
Dell Latitude E5470; XPS 15 (AY 2016/2017) 
Dell Latitude E5450; E5470 (AY 2015/2016)
(systems purchased in 2015 may either be expiring soon or may have already expired in 2018).
Kindly contact the ITS Helpdesk at 978.542.2036 or submit a request to the ITS Help Desk for more information.