For faculty/staff printing instructions, see the Follow Me/PaperCut Printing FAQ post in Polaris.
Printing Instructions for Students
Salem State uses the print management software PaperCut, installed on all Ricoh devices and printers.
You can log into a Ricoh device by tapping your ClipperCard or entering your Salem State username and password. 
ITS labs require you to use PaperCut Web Print to print documents while on campus. You must be connected to the SalemState Wi-Fi network or logged onto a Salem State classroom or lab computer.
Instructions for faculty and staff can be found in Polaris.
How to Print Using PaperCut Web Print
Submit your document(s) via PaperCut Web Print
Login to PaperCut Web Print using your Salem State credentials.
On the left-hand menu, select "Web Print".
Select "Submit a job".
In the "Select a printer" search bar, type the word "follow" and select "wrig11p\Student_Follow_Me (virtual)".
Select "Print Options and Account Selection" to proceed.
Enter the number of copies and select "Upload Documents".
Select documents to upload and print by either using the drag and drop method or selecting "Upload from computer".
Select "Upload & Complete"
In a moment, you should see your print job "Held in a queue" waiting for you to release it from a printer.
How to Release PaperCut Web Print Jobs
You must have your ClipperCard to release your print jobs.
Go to any Ricoh machine on campus and locate the card reader.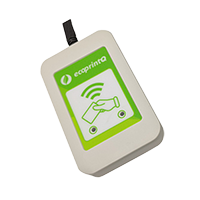 Tap your ClipperCard on the reader to log in, or manually type in your Salem State username and password.
Select "Print all" to release all print jobs in your queue. Select "Print release" to display a list of all jobs in your queue, and select which jobs to print.
There are also options to print 2-sided or in grayscale.
Once you have chosen your options, select the "Print" button in the lower right-hand corner.
When you are done printing, select "log out" in the upper right-hand corner.
To request a refund for jobs not printed, email the ClipperCard office or call 978.542.2273. Provide the name of your document, date and time, and what Ricoh device you tried to print from.